Customize keyboard shortcuts to XLTools operations you use frequently
For your convenience, some frequently used XLTools operations can be performed using keyboard shortcuts:
Become even more productive in Excel

Customize key combinations as you need
Open XLTools tab
Settings button
Shortcuts tab.
Before you begin, add Custom Shortcuts to Excel
Custom Shortcuts is one of the 20+ features within XLTools Add-in for Excel. Works in Excel 2019, 2016, 2013, 2010, desktop Office 365.

Download XLTools for Excel
– free trial gives you 14 days of full access to all features.
How to customize the default keyboard shortcuts
You can change the hot key combinations for XLTools features at any time.
XLTools tab

Settings

button

Shortcuts

tab

Place your mouse in the text box for a specific operation.

Hit the new combination of keys on your keyboard

The default combination will change to the one you've set.

Click OK

Done.
Note: some combinations may not be available if they are reserved for other operations in Excel.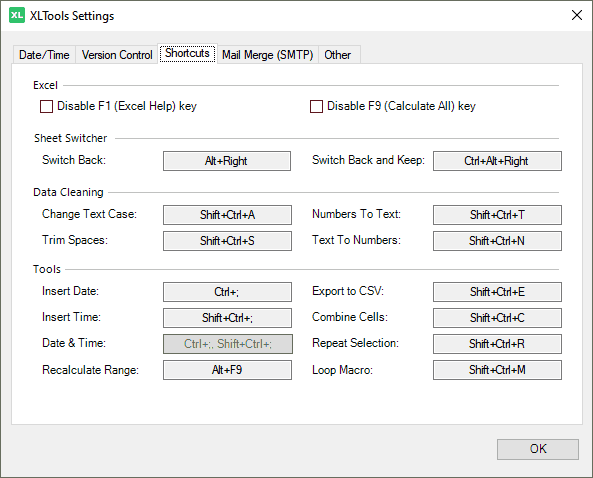 List of supported keyboard shortcuts
Below is the list of XLTools operations you can quickly perform with the shortcuts. To learn more about the features, please follow the links.